On the 26th of September, Work Package 5, EXCHANGE, arranged the next edition of their workshop series, further developing the theoretical framework for the project and connecting the work packages. The workshop's theme was 'Imaginaries, Power and Culture'.
The workshop started with an introduction by Dan Welch and Nina Heidenstrøm and went on to updates from all the work packages on their progress before moving on to the theoretical discussions.
Work Package 1 – Mine
Virginie Amlien gave a brief introduction to the work package and gave the floor to Justyna Jakubiec and Lisbeth Løvbak Berg.
Future imaginaries in novels and movies
Justyna Jakubiec recapitulated the work on novels and movies done by Tamalone van den Eijnden, presented in a previous workshop 'Negotiating Themes in the Fiction of Futures and the Imaginaries of Consumption', reminding us of the themes found in them: Techno-Futures, Future according to Social Transformations, Future According to Marginalized Positions and Futures according to Climate Change/Transformation.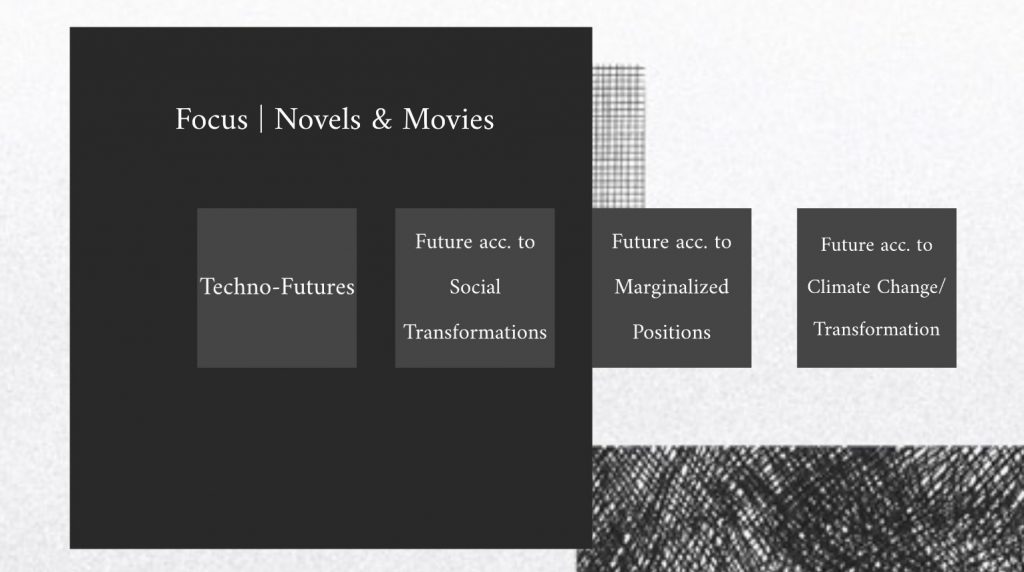 Future imaginaries in public policy documents
She went on to resent the work on the policy documents. In her analysis, she has brought in the concept of discourse from Foucault:
Discourses are practices that systematically form the objects of which they speak.

Michel Foucault
In many of the policy documents the focus has shifted over the years included in the study, from primarily having a focus on human health, to wider environmental concerns becoming a more significant part of them in later years. The connection between the environment and human health is often being made more explicitly in the newer document, as in the theme " imagining through a food for the body", in the image below.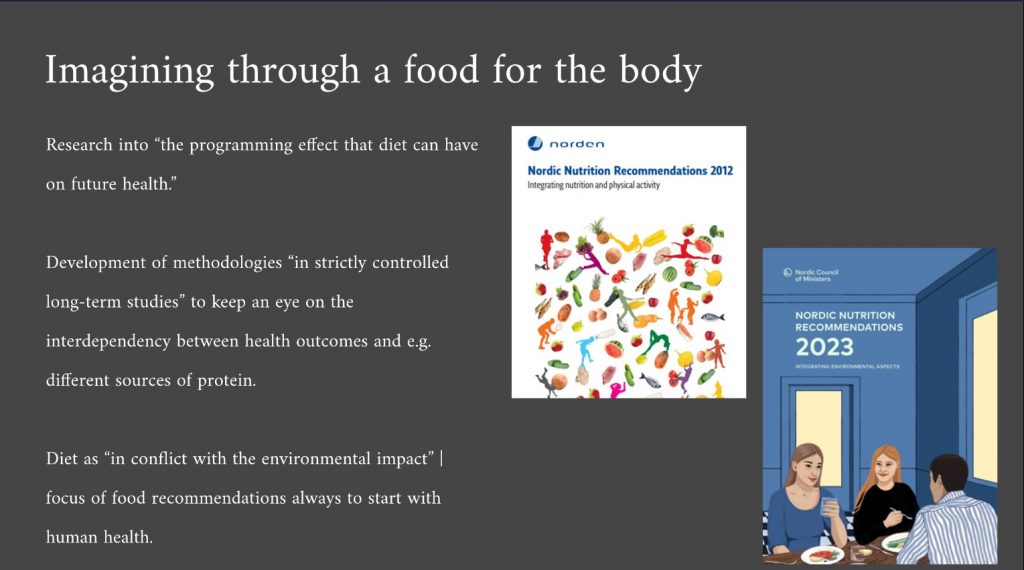 During her stay in Oslo for the month of September, Justyna Jakubiec spent time doing field work and interviews in Oslo, visiting sites where futures for the three themes, eating, dressing and moving manifest through alternative practices or even through conflicts between ideals of sutainable life, habits and previous ideals. The latter is particularly evident in city planning, where the concerns of public transport and in particular tramways collide with the needs of cyclists, creating roads where cycling is dangerous.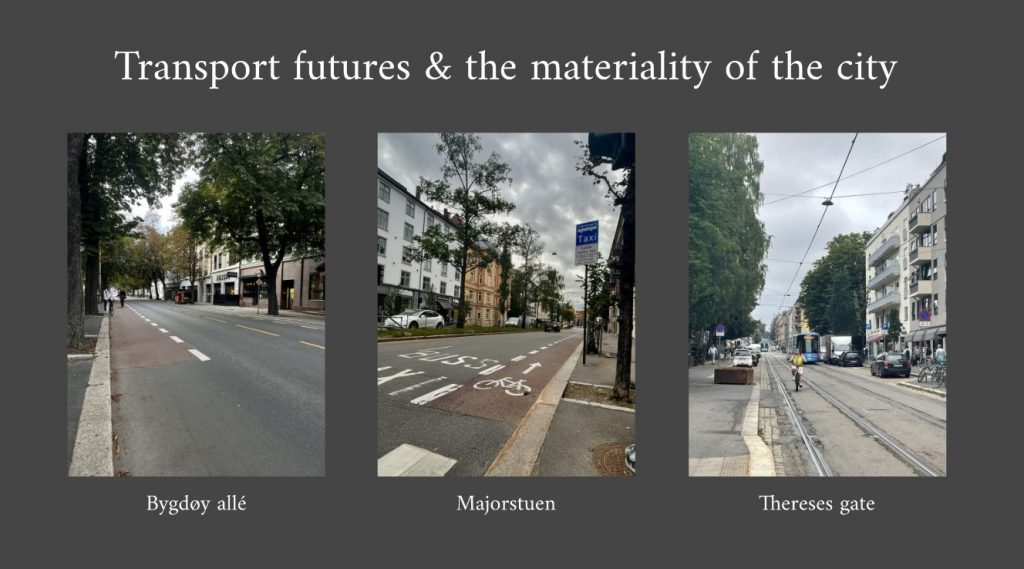 Future imaginaries in business strategy documents
Lisbeth Løvbak Berg then presented the ongoing work on business documents and advertisements under the headline "Themes?", as these are still being negotiated and will change throughout the analysis. However, some elements could already be drawn out, for example, the focus on local production when it comes to food, but also that different actors have strikingly different approaches to what local production is.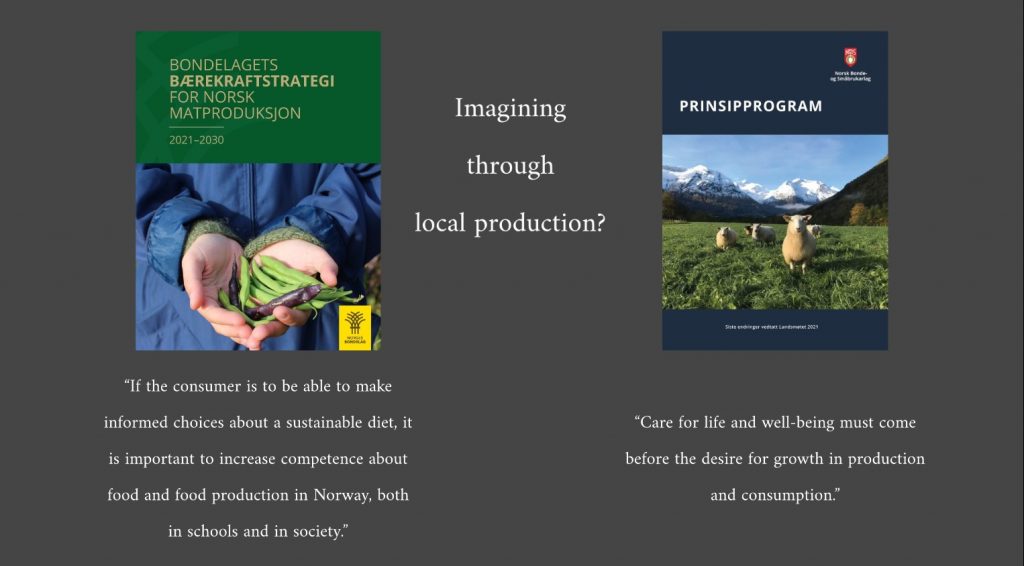 Future imaginaries in advertisements
At this point, advertisements from the same businesses whose documents have been chosen, have been examined. This allows for a comparison with their documents, in some cases underlining their content, and in others providing a contradicting image of the business strategies.
Advertisements do not very often explicitly talk about the future; however, they present ideals and aesthetics that may gesture towards it. For food, the aesthetics more often romanticise the past or community, while for transport, the visualisations are more often futuristic. However, technology plays a part in many. The phrase "the future is now" comes to mind.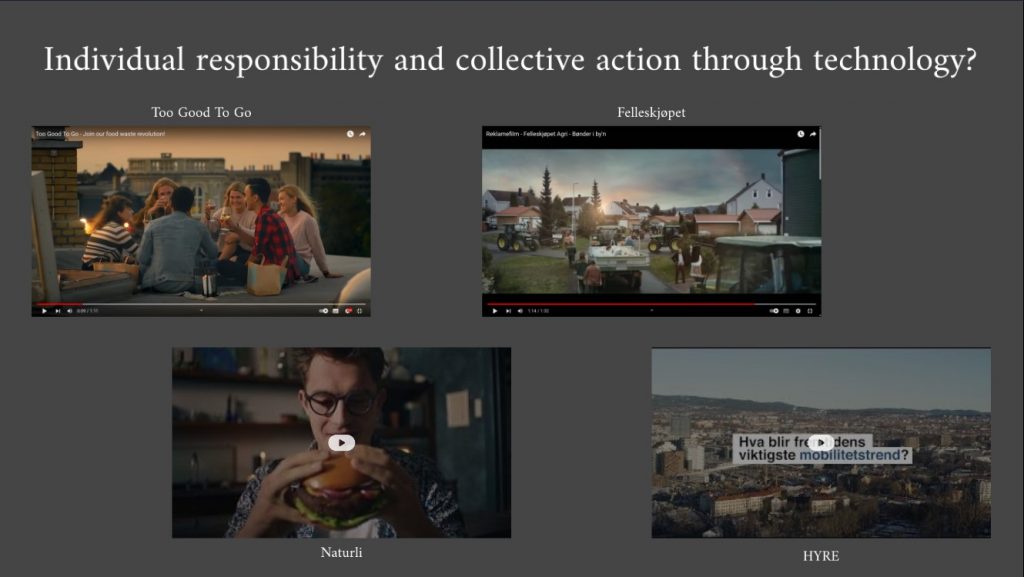 Work Package 2 – Explore
Audun Kjus presented the findings from the consumer stories on minner.no, referring to the different types of narratives found in them: The Crisis Ladder, Ideals and Utopias of Frugality, Green Abundance, etc.
They represent different ways that the consumers see the future developing. The Crisis Ladder would for instance mean that one unfortunate situation leads to another worse, and so on, until a full-fledged crisis unfolds.

He noted that Green Abundance was only set in urban environments, and the gap between the rich and the poor was never addressed in these stories.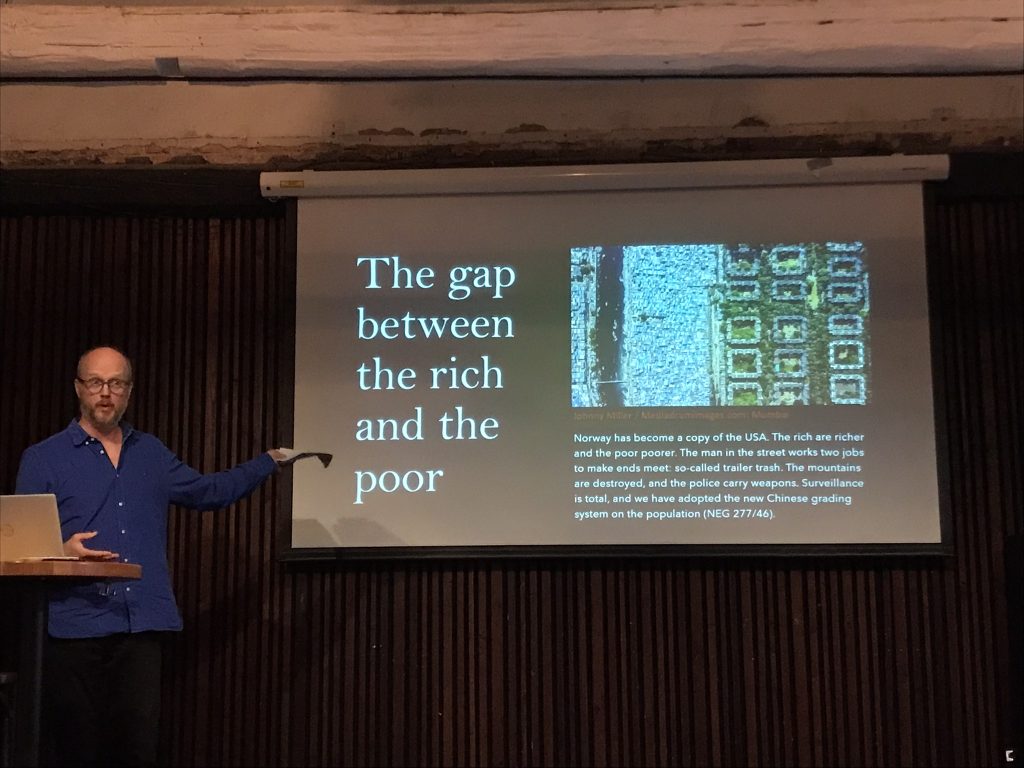 A question was asked about how the respondents saw their responsibility regarding a sustainable future. Kjus responded that most of the responses belonged to two categories; one where people had given up; the other where people described the changes they have made themselves and how these were ideals for other people to follow.
Work Package 3 and 4 – Design and Confront
Dan Lockton presented the work that he has done with his students at TU Eindhoven. It ranges from courses to exhibitions and can be found here, on the TU/e Researching the Future Everyday website.
In this work, an important question is "How do design students explore other people's imaginaries?", or even their own imaginaries. One way that this is examined is by confronting the students with a job ad from the future: Dear Design Graduates of 2023, WE NEED YOU. Here they are presented with future design jobs such as Human-Machine Collaboration Designer, and what this job entails.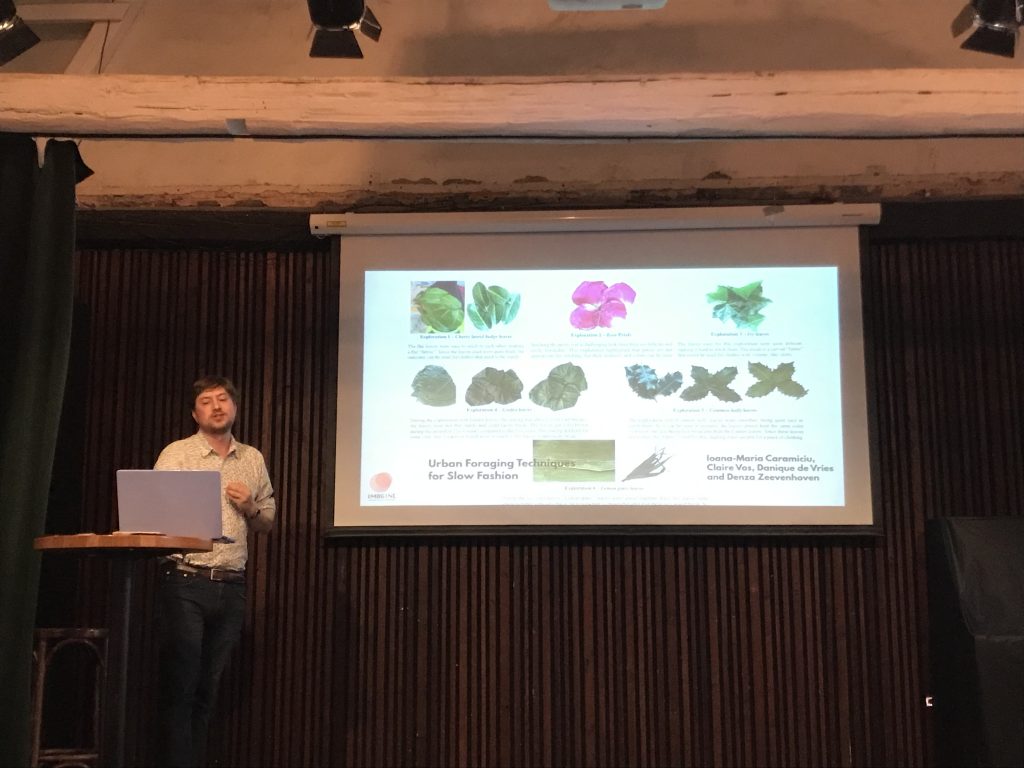 James Lowley and Nenad Pavel presented student work done so far. One example was particularly pertinent in showing the relevance of critical design when imagining the future of shared, driverless cars as Ruter#, the Greater Oslo public transport company, is currently planning the introduction of such cars. The student project very efficiently asks the question: "What can possibly go wrong with self-driving cars?"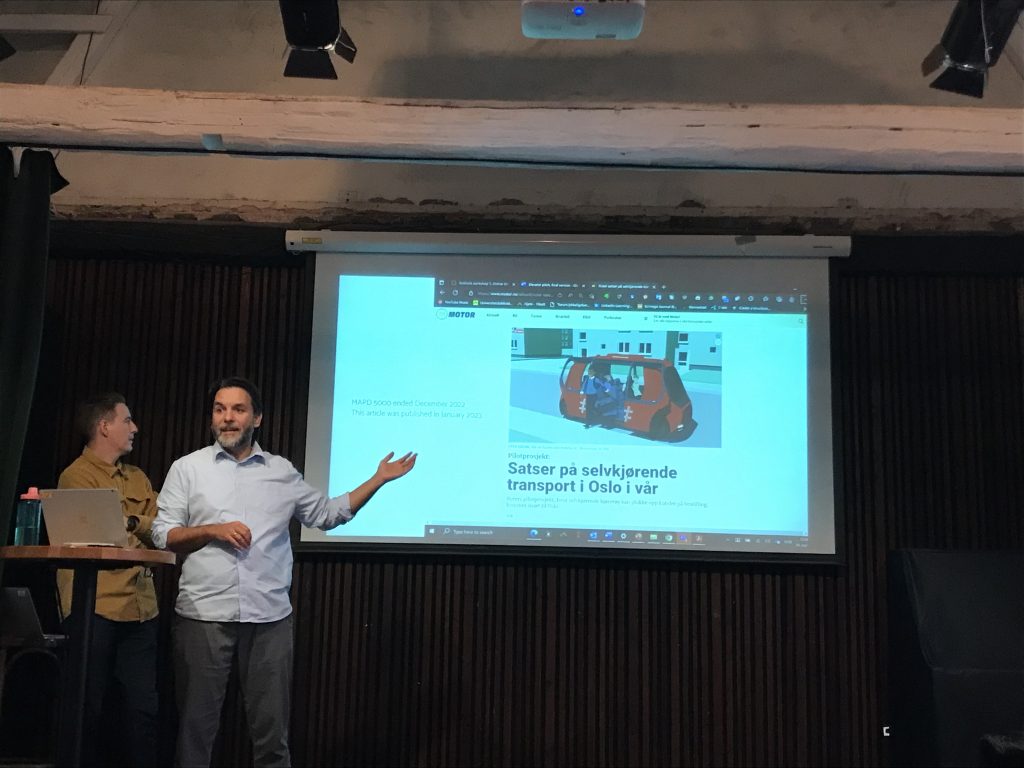 Theorising Imaginaries, Power and Culture
Dan Welch led the next sessions, where Justyna Jakubiec first presented a glossary that is being developed for the project. The aim of the glossary is for the project consortium to negotiate common definitions for the concepts used in the project. This is particularly useful as the consortium combines a range of different disciplines. In the following group work, concepts to add to it were discussed and the glossary is in constant development.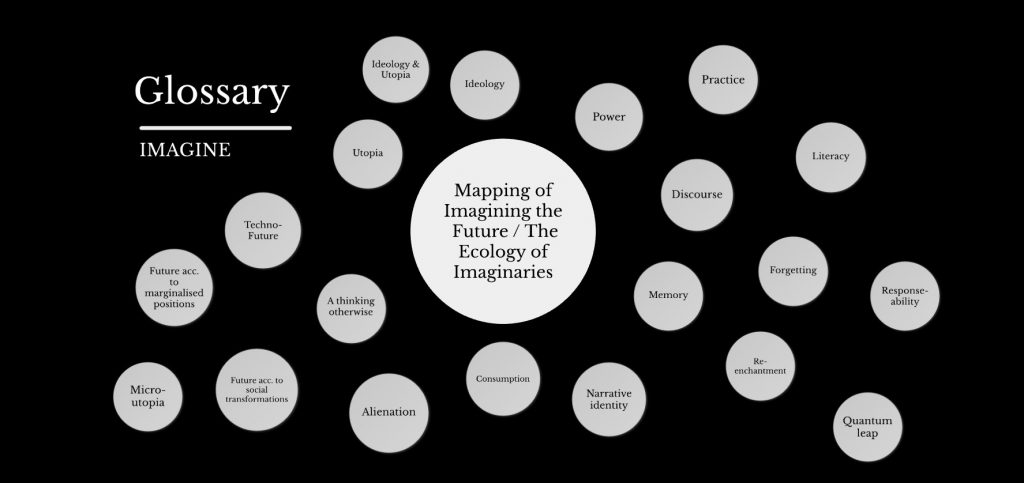 Following this, Atle Wehn Hegnes introduced the different texts in the proposed readings for the day (you can find them listed below). We then discussed them and their relevance for IMAGINE in groups, focusing on the following topics:
Where does IMAGINE position itself related to these three research agendas?
What are we doing differently?
What is our unique contribution?
There was agreement that the material aspects of futuring practices, e.g., through design, was something that IMAGINE brings that is often omitted.
Another question asked was "Does the distinction made between narratives and imaginaries made in the texts have relevance to IMAGINE, is it helpful?". Some thought this was helpful; that the two concepts define two different layers, where imaginaries represent the overarching ideas of the world, that are often not expressed directly, and narratives are the stories we tell about the world, where the imaginaries shine through. This is a discussion we will continue going forward.
Discussion on Collaborative Publications
Dan Welch presented a range of publication possibilities and a quick round table brought forward several publications that are already on their way. We then divided into groups according to our research interests, ranging from social transformation to ethics. The following discussions uncovered many more exciting synergies and publication prospects!
Program
10 am – 12 pm: Sharing Progress and Plans
The first session will be an opportunity to hear from each of the Work Packages about work in progress, preliminary results and plans for the rest of the project.
12 – 12.45 pm Lunch
12.45 – 2.15 pm: Theorising Imaginaries, Power and Culture
In this session we would like to engage with thinking around the power and performativity of imaginaries – drawing both on the IMAGINE project's empirical research and theoretical orientations and other work. To facilitate these discussions, we invite you to read two or more of the attached recent papers, listed below, as well as something from the wider reading list attached.
2.15 – 2.45 pm: Coffee
2.45 – 4 pm: Discussion on Collaborative Publications
In this session, we would like to consider how we can collaborate across the IMAGINE project, both in terms of a major project publication, such as a Special Issue, and in terms of collaborative publications across WPs.
Suggested reading for Theorising Imaginaries, Power and Culture
Core texts
Bazzani (2023) "Futures in Action: Expectations, Imaginaries and Narratives of the Future" Sociology Vol. 57(2) 382–397
Oomen, Hofman and Hajer (2021) "Techniques of futuring: On how imagined futures become socially performative" European Journal of Social Theory [2022 Vol 25(2)]
Adloff and Nickell (2019) "Futures of sustainability as modernization, transformation, and control: a conceptual framework" Sustainability Science 14 (4):1015–1025 – NB: this paper sets out a research agenda for the University of Hamburg Humanities Centre for Advanced Studies 'Futures of Sustainability' programme. It is usefully read with along with commentary piece:
Delanty (2021) "Futures of sustainability: Perspectives on social imaginaries and social transformation. A comment on Frank Adloff and Sighard Neckel's research program" Social Science Information DOI: 10.1177/0539018421999562
Further readings
Jasanoff S (2015) Future Imperfect: Science, Technology, and the Imaginations of Modernity' In: Jasanoff S and Kim S-H (eds) Dreamscapes of Modernity: Sociotechnical Imaginaries and the Fabrication of Power. Chicago: University of Chicago Press, pp. 1-33
Ricoeur P (1976) Ideology and Utopia as Cultural Imagination. Philosophic Exchange 7(1): 17-28.
Watson M (2017) Placing power in practice theory. In: Hui, A., Schatzki, T. and Shove, E., (eds.) The Nexus of Practices: Connections, constellations, practitioners. Routledge: London, pp. 169-182.
Lythgoe, E. (2014) Social imagination, abused memory, and the political place of history in Memory, History, Forgetting. Études Ricoeuriennes, 5(2), 35–47.